器と料理人の出会い
LA BOMBANCE 岡元 信
青山から骨董通りを突きあたりまで行き、しばらく左に歩くとラ・ボンバンスはある。控えめなBとだけ書かれた、その看板からは、そこが日本料理の店だと気がつく人は少ない。印象は、むしろギャラリーかあるいはナイトクラブのようだ。

エントランスが和風でなければ、もてなされる料理もまた伝統的な日本料理を浮かべていると驚かされる。料理長、岡元信の創り出すボンバンスの料理は日本料理でありつつ、革新とさえいえる想像力によって皿の上に創られる。皿の上のアートであり、食事が食事以上のもの、一流のエンターテイメントとして一人一人の器の上に展開されるのである。

その想像力の役割の一つを担うのが山口陶器店の器である。ミシュラン一つ星を受賞した若手気鋭の料理人・岡元信と山口陶器店のコラボレートは、レストランがオペラハウスのように感じ、目の前に現れる料理が、何幕もの舞台のようにさえ感じる。

ぜひ、一度お試しあれ。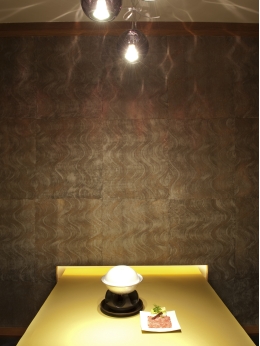 Chef meets a plate
LA BOMBANCE Makoto Okamoto
To the end of kotto street from Aoyama and walk for a while in the left.
The japanese restaurante LA BOMBANCE is there.
It is written as only "B" modestly on the shop sign face to road.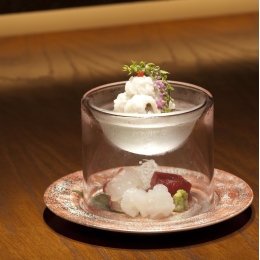 There are few people who notice when there is the Japanese-style restaurante. Rather the impression seems to be a gallery or a nightclub.

In addition,the entrance is not Japanese-style, also the treated cooking is surprised when,you image a traditional Japanese-style dish. A chef de cuisine, Makoto Okamoto creates are made on a plate by even innovation and imagination to be able to say while being a Japanese-style dish. It is art on the plate, and a meal is developed on an each person's plates as things more than a meal, it's first-class entertainment.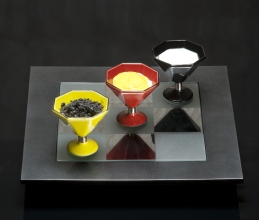 It is a container of the Yamaguchi ceramics shop to carry the one of the roles of the imagination.As for the costarring of - the young spirited cheff who won Michelin Venus - Makoto Okamoto and the Yamaguchi ceramics shop, a restaurant lets you feel it like an opera house.
Plate to appear in the front table feels it even like the stage of several.

Try it once by all means.

LA BOMBANCE
modern Japanese-style

ADDRESS
〒106-0031
2-26-21, Nishi-Azabu, Minato-ku, Tokyo
TEL:03-5778-6511(12:00以降)
HOURS:18:00〜L.O.22:00
BUDGET:¥14,000
SEAT:30

http://www.bombance.com/